Bob Barrar is a man of few words. We've had a few reporters visit us and attempt to gain some insight into one of the countries most awarded brewers, but they only hear a few basic adjectives from Barrar. "I'm excited," and "it's been fun" to questions about creating 2SP. Reporters will press on, "what do you attribute your success to," and they are met with a 100% honest answer, "I just try to do a good job." No fortune cookie metaphors, no channeling of some ancient wisdom, or overly philosophizing the brewing process (we're getting a little tired of that too). He just makes damn good beer.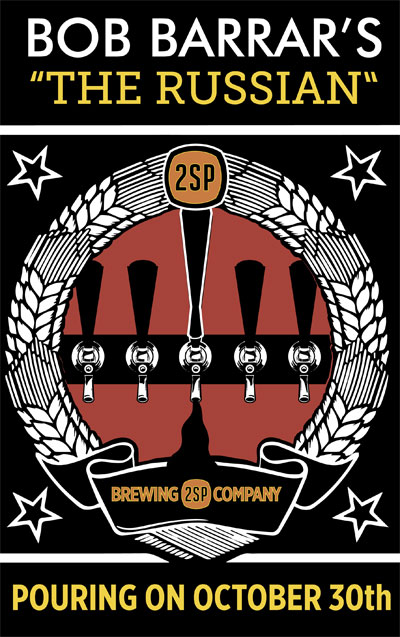 One of his most acclaimed beers, that has won 10 GABF Medals and 5 World Beer Cups is his Russian Imperial Stout. At 2SP he has updated the recipe and created "The Russian," and we are floored. This 9% beer is balanced, big, and without a doubt, can be considered the standard for the style. Ask Bob, he will say it's "damn good."
Look for the "damn good" Russian at these bars tapping it on Mischief Night (Shhh, Bob and Mike are tapping it on Thursday, 5pm at Krestons Wilmington for a special event. You should meet them there).
Philadelphia:
Standard Tap, Local 44, Jose Pistolas, Industry Bar, Memphis Taproom, Strangeloves, Varga, Bru, City Tap House Logan Sq., Garage
Delco:
Coccos Aston, Dino's, Pinocchio's, Teressa's
Chester:
Two Stones Pub Kennett Square and The Sidebar West Chester.
Delaware:
Krestons Wilmington (SPECIAL TAPPING), Two Stones Pub Newark, Two Stones Pub Wilmington, Crust & Craft, Restaurant 55, Peco's Liquor